I
In addition to manufacturing world-class Light Shaping Diffusers®, Luminit offers conversion services that make us a true turnkey provider for customers. Our ISO 9001:2015 Certified production facility includes a CO2 laser, slitter, CNC router and die cutter for fast and efficient custom conversion. From the initial order to the final package, Luminit precision converting means parts are complete and ready to be assembled into your device.
Laser Cutting and Engraving
Luminit's CO2 laser machine performs one-step cutting and engraving of film and rigid diffusers for easy identification and placement. Simply give us your design, and we can engrave part numbers, orientation, angles, even your company logo. All polycarbonate and acrylic materials can be engraved, and precision is close to 10 mil.

CNC Routing
Luminit's Computer Numerical Control (CNC) router produces consistent, high-quality parts. Our highly trained staff can cut and mil rigid LED diffusers into any shape or size, with or without mounting holes. Give us the print and will precisely cut it exactly to your specs.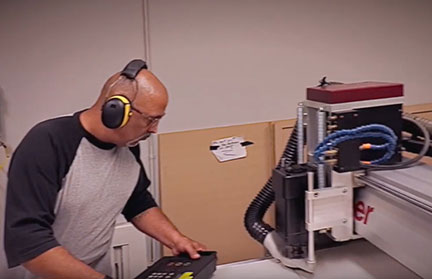 Die Cutting
Our die-cutting pressure bed can cut shapes up to 30 mil thick. Die cutting is often the preferred choice for customers that require the cleanest edges with no loose particles. You give us the drawing and we'll make the metal die (NRE applies), thus eliminating the need to outsource. We'll even store and maintain your metal die so it's ready for the next order.
Slitting
A popular service for linear lighting customers, Luminit can slit our large rolls into mini rolls for seamless light diffusion. Two-foot widths are standard, but we can slit as narrow as ¾" wide and lengths can be as long as 500 feet.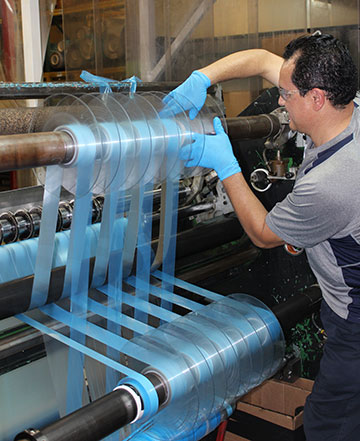 Pressure Sensitive Adhesive
Our laminating services include a pressure sensitive adhesives for mechanical mounting. Typical thickness is 10 mil or thinner.
Contact sales@luminitco.com to learn more about these and othere unique services we can provide.