Direction Turning Film solves a number of lighting and display challenges faced by engineers and designers. DTF allows more beam control and can produce dramatic results particularly when used on downward recessed lighting to achieve more wall washing. Ideal for LED light sources that utilize secondary optics, DTF includes microscopic, asymmetrical prismatic structures embedded on the film that change the light beam direction. DTF can redirect the light beam toward the wall, enhance lighting in pathways and stairways, and redirect pool lighting for better, more uniform coverage. In addition to solving common problems associated with interior and exterior lighting structures, Luminit DTF can be incorporated into display panels such those used as in avionics to allow optimum views for both pilot and co-pilot. Our standard DTF is a prismatic film that redirects light 20°off axis and is replicated on .010" PC.
Applications for this image directing film include LED lighting, avionics displays, traffic signs/displays and LCD backlights. DTFs are also used to change the light beam direction to light a wall, walkway or other lighting targets. DTFs are available as simple 20° direction turning films or can be combined with Light Shaping Diffusers for diffusion and angular distribution characteristics with the Fresnel prism beam shifting structure. 
Redirecting the Image of an LED Display with Directing Turning Film
Direction Turning Film is an effective replacement for 3M's Vikuiti™ Image Directing Film II (IDF II). DTF takes an image created by a flat panel display and redirects it off-axis for optimal viewing angles. Many of our customers combine DTF with a Light Shaping Diffuser to increase uniformity or our Round Tip Display to increase display brightness. 
Benefits include: 
Recessed can lights to allow for more wall washing

Pathway/stair lighting to reduce glare and increase ground illumination

Pool lighting to increase illumination of the bottom.

Works well with LED light sources that utilize secondary optics
Cost-savings with no changes to the light fixture

Redirects the image at a controlled angle of 20°

The redirected image is virtually distortion free

Easy to incorporate into display panels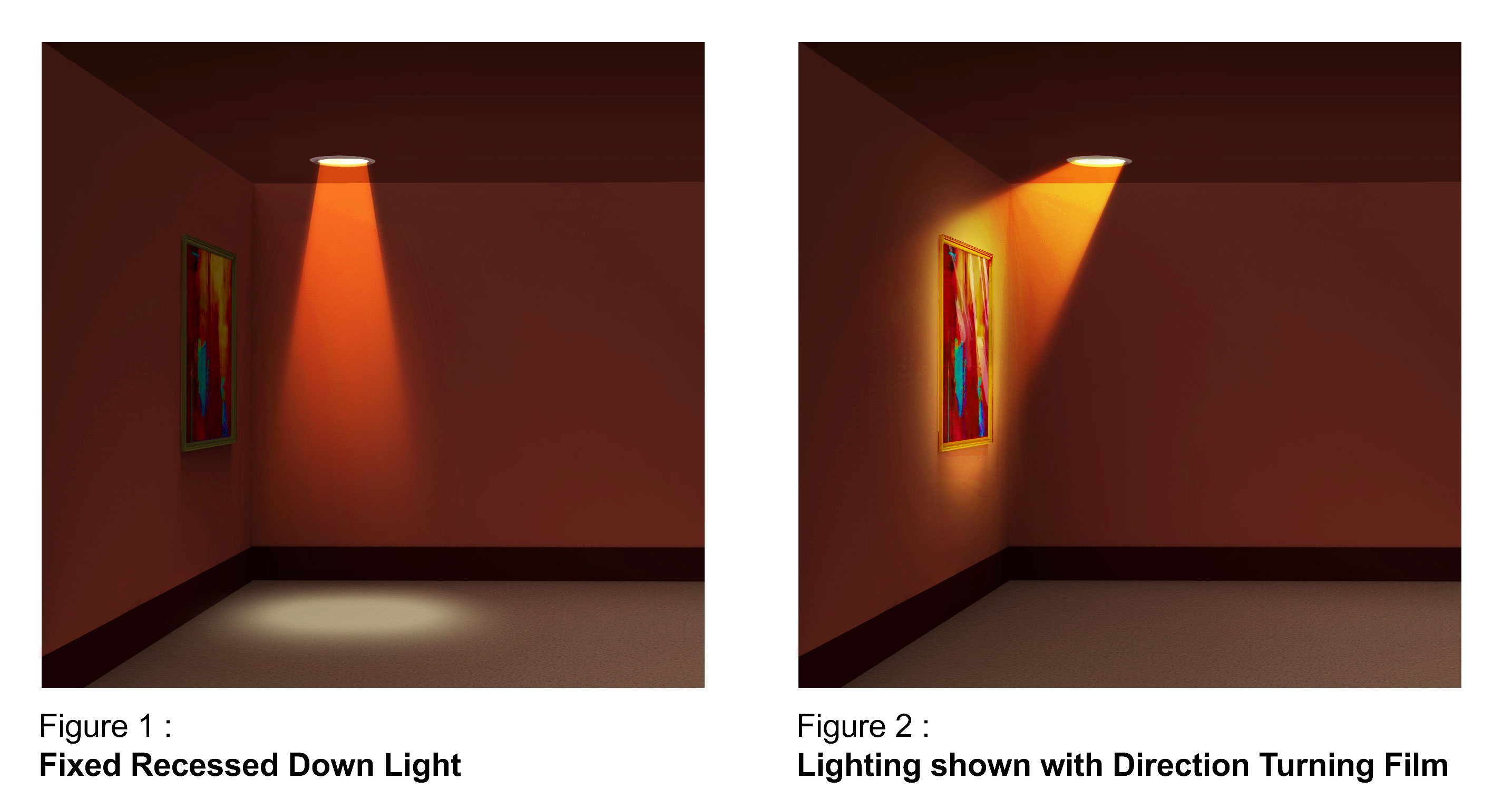 Read the available Data Sheet or Contact Us with questions.