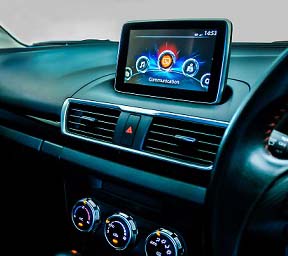 Luminit's Display Brightness Film is a light-management film that increases the brightness of LCD displays used in automotive, avionics and consumer electronics applications. This highly specialized display enhancement film utilizes the principles of refraction and total internal reflection to recycle and redirect light to manage the angular output from a back-light unit (BLU) and increase the brightness of a display. The standard version has a gloss finish on one side, and an optional diffuser is available to reduce common unwanted optical artifacts such as mura, sparkle and moiré. The result is display performance that is brighter and more efficient. Tests show Luminit LCD Display Brightness Film within 4% of the performance characteristics of similar film solutions (BEF-2).
•    Non-birefringent
•    Increases brightness of LCD backlights
•    Power savings or thermal management
•    Can reduce film stack and assembly if combined with a diffuser
Request a Data Sheet or Contact Us with any questions on our LCD display brightening film.