Lighting a New Path for the Automotive Industry
by Mary Ann Giorgio
As automotive manufacturers replace traditional halogen-based lights with more energy-efficient, durable and versatile LEDs, consumers are benefiting from new innovations to vehicle interior and exterior lighting. Luminit's Light Shaping Diffusers® are actively being used to enhance LED fixtures for commercial and residential lighting and more recently for automotive taillights, auxiliary lighting, dashboard panel illumination, and more.
Changing How We See LED Lights
Light Shaping Diffusers® expand what's possible with light using holographic patterns embedded on polycarbonate or polyester sheets or film. These patterns create a random surface that can manipulate light without changes to the light fixture. One of the most noticeable uses for Luminit's Light Shaping Diffusers® can be seen in vehicle taillights. The diffusion ability of Luminit Light Shaping Diffuser allows lighting designers to homogenize and control the output of an LED light source, and when applied to a taillight, the LED light source or "hot spots" disappear. For example, Luminit's 100° Light Shaping Diffusers® offer excellent LED hiding power for designers who want to eliminate LED hotspots without losing a significant amount of light. When applied in direct view back-lit designs, this extreme angle Light Shaping Diffuser film conceals multiple LED light sources and produces a uniform, more aesthetically pleasing plane of light.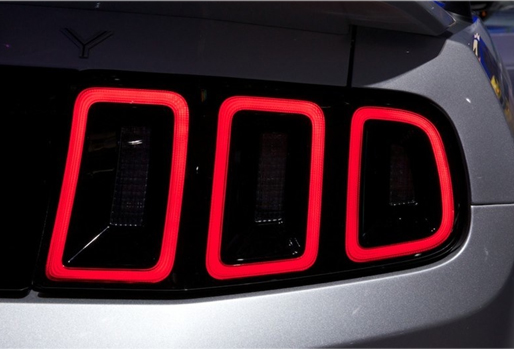 In addition to the dramatic effects of uniformity, Luminit has created specialty Light Shaping Diffuser® films that can transform interior lighting to create brilliant and random patterns. The technology can be used on dashboards, door panels, interior ceilings, trim lights, or almost anywhere LED lights are used in the vehicle.
Another area being explored is the use of injection molded Light Shaping Diffuser® lenses for automotive interior and exteriors lighting applications. The monolithic integration of Luminit's Light Shaping Diffuser microstructures into a fixture results in a rigid lens with very high light transmission and a controlled beam pattern. These lenses can be designed to fit a bulb or fixture with the appropriate mechanical tabs or clips molded in and can be produced at low cost in quantities of 10,000 or more.

Specialty Light Shaping Diffuser® film applied to an embossed chrome film reflector creates an alluring optical pattern.
Holographic Imaging Films
Holographic Optical Elements (HOE) is another Luminit technology gaining momentum in the automotive industry. Based on Luminit's Substrate-Guided Wave based Holographic technology (SGWH), these films combine a holographic image area, acrylic guide and an LED light source to create what appears to be a magical manipulation of light. Transparent in the off state, the LED light source travels to the holographic image area unseen by the naked eye. Uses include interior lighting and trim, manufacturer logos, Heads-up Displays and Center High Mounted Stop Lamps (CHMSL).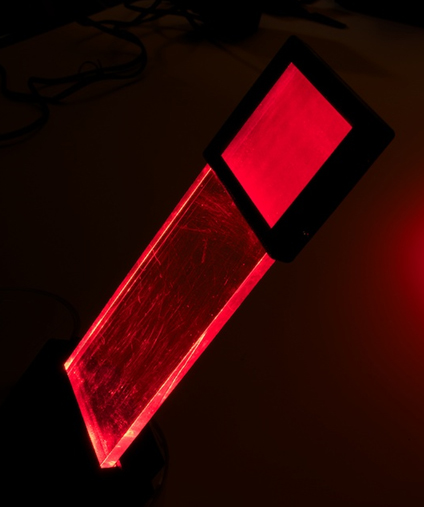 Luminit's Holographic Optical Element technology in vehicles include Center High Mounted Stop Lamps, interior lighting, logo projection, heads-up displays and interior trim.
The Road Ahead
The efficiency and design advantages of LED-based fixtures will continue to evolve and change what's possible with automotive exterior and interiors lighting. Technologies such as Luminit's Light Shaping Diffuser films, injection molded diffusers and Holographic Optical Elements (HOEs) give automotive manufacturers, engineers and lighting designers more options to enhance the user experience. Such features integrated in the design phase of automobiles, combined with the myriad of benefits offered by LED lights, will no doubt catch the eye of new car buyers in a fiercely competitive industry.
For more information, contact sales@luminitco.com