Luminit Is Meeting the Mass Production Needs of a Growing AR Market
When Apple "buys" people listen, and just about everyone in the field of holography paid attention to the tech giant's recent purchase of Colorado-based Akonia Holographics. The market is responding to what Luminit holographers and scientists have known for years—Augmented Reality (AR), be it used for AR smart glasses or head-up displays, is a paradigm shift. We know this because Luminit mass produces holograms for a number of augmented reality and virtual reality focued customers.  
Luminit has a long history in holographic technology. Our company was founded on the belief that light could be directed more efficiently with holography. Our holographic technologies and mass production capabilities can replicate over 30,000 square feet of holographic surface microstructure films per day. This expertise in holography, thin film replication, and volume hologram mass production is driving Luminit's growth.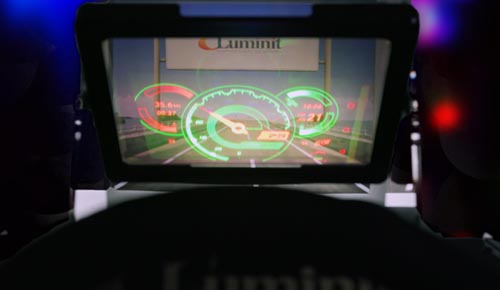 Made with a thin (16-micron) photopolymer recording media, Luminit's Transparent Holographic Components (THCs) use advanced holographic optical element designs to replace traditional bulky optics with a thin lightweight clear film component. The holograms recorded in this film have properties of "volume" (Bragg) holograms that can provide optical power and perform both lens and mirror functions, in addition to being wavelength and angularly selective with very low scattering. Transparency is above 90% and high diffraction efficiency (up to 80%) means that THCs deliver brighter, more compact lens designs that provide a larger virtual image size. These qualities make them ideal for products such as augmented-reality eyeglasses, display devices, and vehicular head-up displays.
While the idea of using HOEs to replace lenses and mirrors has been around for years, the ability to efficiently and affordably mass produce holograms for augmented reality has been missing from the equation. Luminit holds a key advantage because our unique production capabilities allow roll-to-roll optical reproduction of volume holograms and surface relief films. THCs are scalable, have a lightweight and compact form factor, and can be mass produced in high-volumes.
Augmented Reality has the potential of revolutionizing virtually every industry, and the big firms manufacturing AR devices recognize what Luminit's technologies and Transparent Holographic Components bring to the market. 
Learn more about Transparent Holographic Components by visiting Luminit Holography or contact sales@luminitco.com.