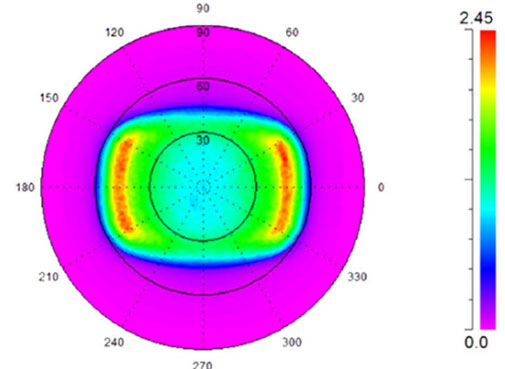 Luminit offers the widest commercially available polymer on glass flat top diffuser at 148° x 98°. The polymer on glass format is compatible with standard solder reflow processes used in the semiconductor industry to mount surface-mount technology (SMT) components to PCBs and other electronic assemblies. Polymer on Glass Micro-optics are ideal for parts <5mm in size and high volumes of >100K per month. Applications for flat top diffusers include VCSEL, 3D sensing, autonomous vehicles and drones, consumer electronics and other industries seeking precise beam control. These custom Light Shaping Micro-optics are on thin (0.4mm) glass and utilize proprietary pseudo randomized micro-lens features to achieve uniform illumination patterns that do not exhibit any coherent diffractive effects. 
What are the advantages of a Polymer-on-Glass Diffuser? 
High-quality homogenization

No coherent diffractive effect
Available angles
148° x 98°, 20°x 90°, 20°x190°, 125°x30°, 110°x80°, 47°x41°, 90°x70°
Download the Data Sheet or Contact Us with any questions about our high temperature flat top diffuser.