Luminit helps you shape light in difficult environments
Luminit Glass-on-Glass Light Shaping Diffusers are particularly applicable to laser, biomedical instrumentation and other high temperature/power applications, as well as UV applications requiring high transmission efficiency at UV wavelengths. Glass-on-Glass LSDs are available in three versions:
Ultra-high Temperature/Power LSDs -- Pure glass diffusers up to 2"x2" in size that can diffuse from 0.5° to 15° while operating at temperatures up to 500°C with a laser damage threshold of 8J/cm².
High temperature LSD – A glass diffuser up to 2"x2" in size that can diffuse from 0.5° to 50° with operating temperatures up to 200°C.
Hybrid glass LSD – This version can be made up to 20"x20" in size and with a wide range of angles from 1° to 80° circular as well as at many elliptical angles. It can also be produced on a wide range of optical glass substrates.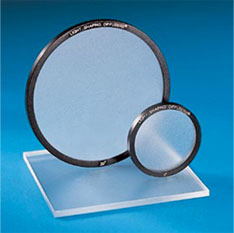 These Glass-on-Glass Light Shaping Diffusers offer transmission efficiency of 88 to 92% depending on angle in the visible- light range. They are also available on silica UV53 substrate, which has transmission efficiency of 70% at 190nm.
Download datasheets – Glass-on-Glass and Hybrid Glass
Machine vision applications range from bar code scanners to sophisticated automated optical inspection systems to detect and measure defects on a wide variety of surfaces—from silicon wafers to champagne bottles—during and after their manufacture. Elliptical Light Shaping Diffusers supply the uniformity required for detailed line scan metrology applications. Following are some of these applications: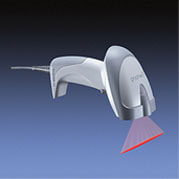 Bar Code Scanners
Wafer Inspection
Die Bonders
PCB Inspection
Biometric Scanners
Ring Lights
Photocopier scanners
Today's medical instrumentation incorporates a variety of light from fluorescent sources, UV sources, lasers, and LEDs for applications from general lighting to laser surgery and everything in between. Following is a list of biomedical equipment that has utilized Luminit Light Shaping Diffusers:
Blood Analyzers
MRI Scanners
Bacteria ID Systems
Eye Screeners
X-ray Tomography Systems
Laser Eye Surgery
Laser Cosmetic Surgery
Biological Imaging Systems
Teeth Whitening Systems
Cellulite Reduction Systems
The arc lamps and lasers used in today's high-brightness projectors generate a lot of heat, which precludes the use of polymer-based diffusers. Luminit's high-temperature Glass-on-Glass Light Shaping Diffusers can withstand heat up to 500°C and provide the same benefits as polymer based LSDs within a narrower range of angles. They are also used in high power laser systems because they have high laser damage thresholds – 8J/cm². Datasheet – Glass-on-Glass
Forensic lighting equipment typically integrates light sources ranging from metal halide lamps to laser and even high power LEDs. These designs usually offer a fixed angle of divergence, limiting its field of illumination. If greater coverage is required, expensive micro-optics are usually required to enlarge the beam. Light Shaping Diffusers can be used to shape and homogenize the beam without the use of expensive optics and without increasing the optical path.